The 538th Meeting Report
2012.10.20
The 538th regular meeting was held at Kanagawa Fujin Kaikan, located near Momijizaka Street.
In Momijizaka Street, there are many maple trees along the street.
The leaf color has still stayed green.The meeting theme was "Halloween".
TM K.T as TMOD disguised herself as a witch and controlled the meeting smoothly and comically.
Four speakers performed wonderful speeches, based on their experiences and opinions.
Furthermore, their evaluators pointed out their good and improved points sharply.
We enjoyed the meeting and had a profitable time to improve our communication and leadership skills.
Next meeting on 3rd November will be held at Danjyo Kyodo Sankaku Senter Yokohama-minami.
We are looking forward to your active participation on the next meeting.
TM M.T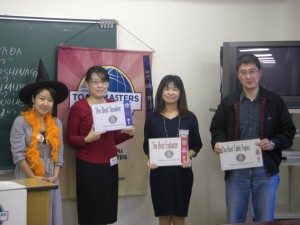 Award session!!!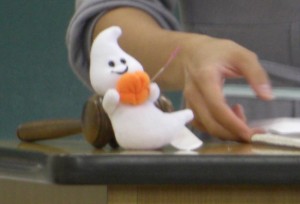 Cute ghost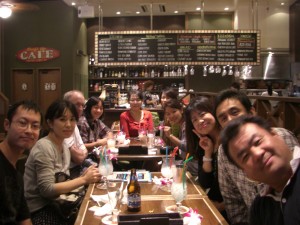 Party at Hawaiian restaurant
If you want to see photos more, please click here!