Date&Time: January 23th 14:00-16:00
Venue: Solely Online via zoom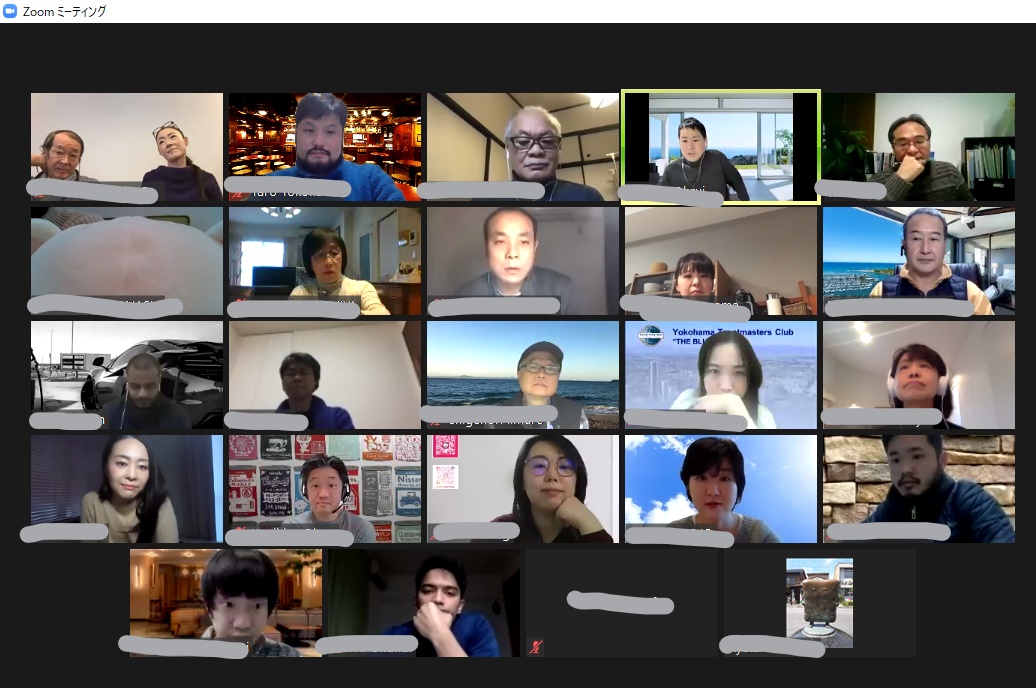 We conducted the online meeting because of continuing the state of emergency in Tokyo and Yokohama.
25 participants (Member: 23, Guests: 2) joined the meeting virtually. 
Induction ceremony was held 3 consecutive meetings, one members joined our meeting twice.
She took a step forward to be our member in order to have courage to make a speech in public.
All the best!
TMOD (ToastMaster Of the Day) role was taken by TM M, that was the first attempt for him.
He did a wonderful job to facilitate the meeting even he faced some troubles in that meeting.
Also, he prepared to make participants fun, Fantastic.
Table Topics Session was conducted by TM K.
He used this session to make new members understand the toastmasters meeting roles since we acquired 11 new members in half a year.
New members expressed worries at taking particular roles, experienced ones give tips and advices to them.
I think it is a good idea to use time effectively since we have many members who want to speak out, good job!
All 4 prepared speeches were interesting.
TM O who became our member from the last meeting performed an ice breaker speech, she expressed the reason why she decided to join toastmasters.
TM IH made a speech about streaming drama she is into, she succeeded in convincing us to see it by acting a scene from that.
TM IA told an experience in air travel with humor.
TM IM tried to introduce a blockbuster movie "Demon Slayer" however, it is regrettable that the speech was postponed due to network trouble at speaker side. We are expecting the next opportunity.
The meeting came to a successful conclusion as always.
Everyone helped TM M to make a smooth process, guests were enjoyed like us.
The next meeting is our in-house speech contest, am looking forward to seeing wonderful speeches.
See you soon!