2013.05.04
The 548 YTMC meeting was held at Gino Bunka Kaikan.
The next officers were elected today and their term will start from July.
The new elected officers are followed;
President                   TM Nirupam
VP Education             TM Koganei
VP Membership         TM Taketomi
VP Public Relations   TM Marutani
Secretary                    TM Rolando
Treasurer                    TM Takanashi
Sergeant-At-Arms       TM Tabuchi
We hope these officers will draw new pages in the YTMC history.
As you know, time management is important for toastmasters,
but it is difficult to keep it every time.
If there are many information which you want to share with your members,
you have to pick up most important topics for your members.
Next meeting will NOT be held regularly on May 18, because of the D76 Speech Contest in Nagoya.
We will meet the 25th Anniversary Meeting at Hatoba Kaikan and Party at Jukei Hanten Bekkan, respectively, on June 1st.
Let's enjoy memorial meeting and party!
TM M.T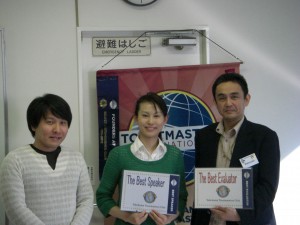 Today winners TM H.A, TM T.M and TMOD TM G.M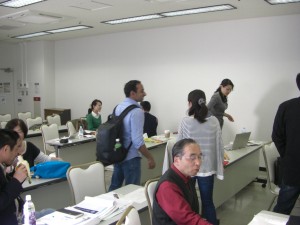 Tea time after the meeting
If you want to see more photos, please click here!!