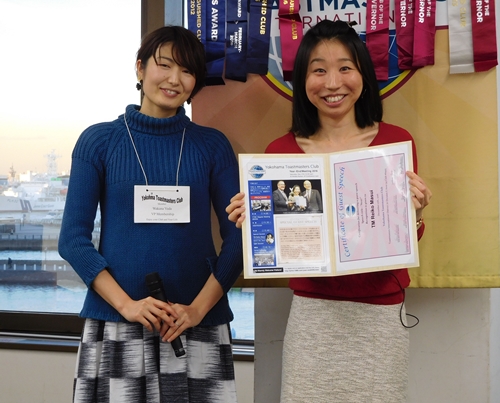 年末ミーティングには、他のクラブのメンバーも含め、たくさんのゲストにお越しいただきました。
スペシャルセッションでは、今春の国内コンテストのチャンピオン・Mさんをお招きし、コンテストでのスピーチを披露していただきました。彼女のスピーチ「Next!」はとても感動的な、心打たれる内容でした。スピーチ、Q&Aセッションを通し、メンバーにとって非常に学びの多い時間となりました。
そして、通常例会。Mさんによるジョークセッションにより、大盛り上がりで会が始まりました。即興スピーチのテーブルトピックセッションは、Hさんが初めて進行を担当。今回の例会テーマにちなみ「2016年の振り返り」をテーマに質問を行ないました。また3本の準備スピーチも大変素晴らしいものでした。Mさんによるデビュースピーチは、彼女の専攻について。Kさんのスピーチは彼の仕事、電話でのクレーム対応方法について。Nさんのスピーチは、うさぎと亀をモチーフにした内容でした。総合論評者や論評者も含め、すべてのメンバーの協力により、例会はスムーズに進行しました。
またミーティング終了後の懇親会ではお菓子を持ち寄り、メンバー・ゲスト間で交流を楽しむことができました。とても素敵な時間を過ごすことができたのも、メンバー及びゲストの皆さんのおかげです。今年もありがとうございました。
TMOD Y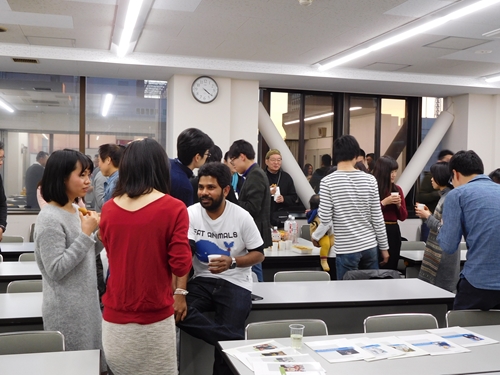 YTMC Year-End meeting was held on December 17th.
Happily, we had lots of guests including other club's members.
For the special session,
we invited 2016 District 76 English speech champion, TM.M!
Her speech"Next!" touched our hearts, and we learned a lot from her speech and Q&A session.
At the regular meeting,
our joke master TM.S made us laughed hardly and made a good warm atmosphere.
TM.H took the table topic role for the first time. Her choices of the topics was beside the meeting theme "Look Back 2016".
3 prepared speeches were incredible! TM.M delivered her speech for the 1st time, and she spoke about her major. Another speech talked about the service over the phone, and the last speech was about the rabbit and the turtle. All role takers including GE and evaluators did great job, and the meeting proceeded smoothly.
The social gathering party was also enjoyable time. We brought sweets and snacks and talked a lot with guests. All members and guests, thank you for the great time! I hope you have great holidays!
TMOD Y