2012.11.04
Division D Fall contest was held on Nov. 4th near Yokohama Chinatown. There are 5 areas (I mean 22 clubs) in Div. D, and TM M.H joined this contest as a contestant from YTMC.

Fall contest is Table Topics contest in 2012. Today's question was difficult. The question is like this
" The time has come that human being can live on the moon. You are elected the mayor for a city of the moon. But there are no constructions and public institutions. What do you want to build?"
I thought she answered this question well. But unfortunately, she couldn't win the prize. I felt Div. D level is very high! We should practice more and more in YTMC!
In addition, I got TM M.H comment about joining the contest. Her comment is below.
It is the first time to join the contest for me.
I seemed the atmosphere of division table speech contest is quite difference from the area contest.
I could not catch all of the question due to tension and I caught just a few words, "Mayor" and "Moon".
On this contest, I could answer this question because I had strong supporters of Yokohama Toastmasters Club.
Thank you for all of encouragement.
I would like to practice more and more to improve my speech skill.
TM A.T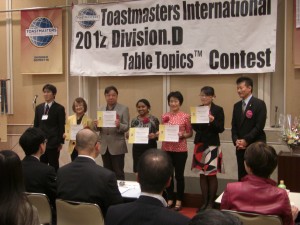 All contestans of Engilish contest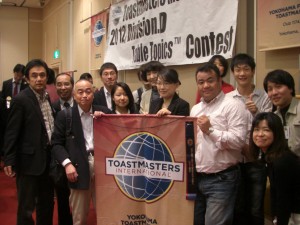 YTMC members!!
If you want to see photos more, please click here!